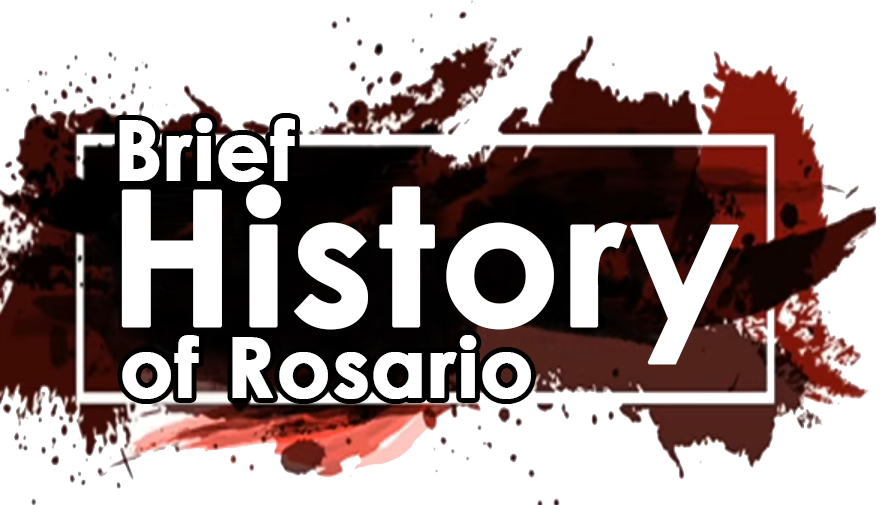 Rosario used to be a sitio and then a barrio of Santo Tomas, La Union. It was converted into a municipality in 1869.
The earliest people of Rosario were immigrants from Santo Tomas, La Union and Magsingal, Ilocos Sur. Later, more immigrants arrived from the towns of Agoo, Tubao, Aringay and still later from San Fernando and Bacnotan.
Those coming from Santo Tomas, Agoo and Magsingal occupied Poblacion, those from Bacnotan occupied barrio Udiao, those from Aringay occupied barrio Casilagan, those from Tubao settled in barrio Parasapas and Carunoan and those from San Fernando settled in barrio Amlang.
As more immigrants arrived which resulted to the increase of its population, the people agreed it was about time that Rosario be converted into town.
Don Mariano Posadas along with Don Mariano Narcelles and Don Gavino Ordoña, who had the best command of spoken and written Spanish at that time, petitioned with the national and provincial authorities for barrio Rosario to become a regular municipality.
In 1869, the Spanish Provincial Governor granted their petition and appointed Don Agustin Isidro de Guzman as its first Capitan Municipal.
There are two stories on how Rosario got its name,
In early days, there were dense forests not only on the hills but also on the narrow valleys. There were many wild animals and birds. The rivers and brooks were deep where all kinds of edible fishes and snails abound.
The banks of the Malitnaw and the Nilanguyan rivers and the numerous brooks were converted with different kinds of ferns and wild roses. The stem was long, clinging and was covered with sharp thorns. Against a broad and almost continuous background of green foliage, the wild roses looked like a huge white, red and pink ribbon meandering on the banks.
The Spanish soldiers who came to the place admired the beautiful landscape with dense forest and riverscape of colorful wild flowers (roses). They called the wild flowers "rosas del rio". It was not very long however, when the inhabitants found it easier and more convenient to join the words thus, the name "ROSARIO".
            Another story is about the long range of foothill far west of Poblacion. At the distance, it looks like big rosary beads cut in the middle and laid down straight from end to end. Many people say that the name of the town was derived from this giant and long rocky rosary looking at the sky with a huge blank stare. Rosario is the last town on the southern portion of La Union. From the south, it is the first town in the Ilocos region. Travelers aptly call it the "Gateway to Ilocandia" and this is true because the national highway cuts through a mountain at barrio Agat, Sison, Pangasinan before it gently glides into the Bued Bridge that marks the boundary between La Union and Pangasinan. A visitor who comes into the heartland of Ilocandia for the first time will have a memorable impression of a typical Ilocos topography, hilly, narrow plains and valleys, shallow rivers and brooks